Sunday, November 26th, 2006
The raw HiRISE image data needs to be cleaned up, and the HiCal pipeline is where this work is done. Now that the raw image data has been converted to a *.cub file format, ISIS tools can be used. These include hiclean, hipical, and hidestripe.
Hiclean does just what is says. Noise introduced into the image data by spacecraft electronics is corrected. Noise can show up as vertical and horizontal lines in the raw image and other periodic manifestations.
Hipical is a newer tool that performs calibration on the image data. For example, flatfield and gain corrections are performed by hipical. Hipical will be upgraded as we learn more about our instrument in its environment around Mars.
Hidestripe corrects a known striping pattern in HiRISE images.
We use other tools to collect even more statistical data about the newly calibrated image data. The HiCal pipeline will continue to be upgraded as our software matures. New statistics will be collected while corrections are added or improved.
After cleanup has been completed and a new *.hical.cub channel product created, HiCal creates a variety of jpeg browse and thumbnail images. The cleaned up channels are large, and for quick previews, these smaller jpegs come in handy.
Finally, HiCal lets the next pipeline – HiStitch – know that cleaned up channels are ready to be stitched together into CCD products.
Below is an example of raw data, prior to going through the HiCal pipeline. This image sample was taken from TRA_000873_1780; "Victoria Crater" at Meridiani Planum.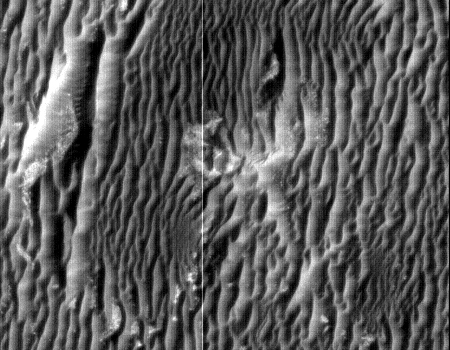 Below is the same image sample after going through the HiCal pipeline (notice that the bright vertical line in the center and the faint vertical lines throughout the image have been correctly removed by HiCal):