Thursday, September 20th, 2007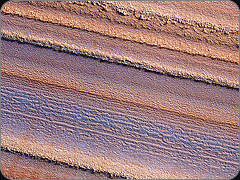 Three HiRISE papers are coming out in a special issue of the journal Science today. Our science team has been working hard on analyzing the images we take, and they've discovered some interesting things.
One paper talks about a few aspects of the history of water on Mars: HiRISE images of "rock glaciers" and bright deposits in gullies that might be extremely recent. HiRISE observations of an area called Athabasca Valles were used to show that it is actually covered with a thin veneer of lava. A third paper discusses thin layers in the North Polar cap. HiRISE is able to discern very fine layering (seen in an excerpt of image PSP_001636_2760 at left), as well as the color and thickness of each layer. Since these layers were laid down over hundreds of thousands of years of Martian history, they provide a record of climate change on the planet.
You can find a lot of things on the HiRISE website that are impossible to include in a print journal – like full-resolution color versions of the images from the papers, and (my favorite) cool 3-D flyover movies of the stereo observations. Our webmaster designed this lovely page for accessing these special products. Have fun flying over Mars!