We're just finishing up four days of having the whole HiRISE team visiting us here in Tucson. It's been a great team meeting! We had updates on operations, and heard a lot about science results from HiRISE images. Some CRISM and THEMIS team members participated, too, so we got to see what other teams are doing and talk about collaborating and using multiple data sets. People are doing really exciting things with HiRISE data!
Also, our team is really growing!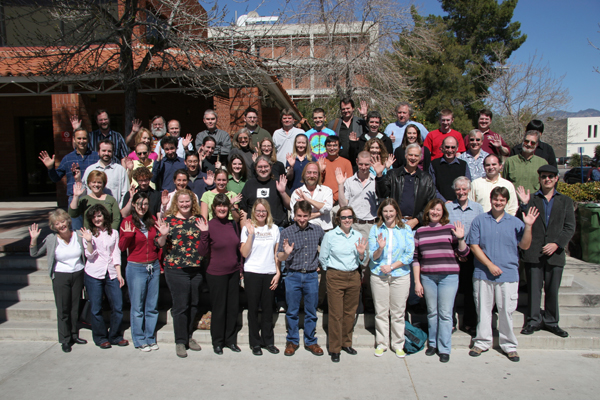 You'll notice a lot of new faces compared to a few years ago!

We spent the first day updating the team on our operations here at HiROC. Then for two days, almost everyone on the science team presented new results from recent HiRISE data, and explained their plans for future observing and analysis. We saw some really great images! A lot of people are doing "quick & dirty" three-dimensional analgyphs with our stereo data (like these), so we got to wear our red/blue glasses a lot.
(We don't have things calibrated & automated to the point where we can do this "correctly" yet, so these are still mostly preliminary, hand-processed products.)
Today, most of the team is participating in software training. Since we only have a day, we're just doing short demos of the planning tools (HiPlan – see previous HiBlog entry for a recent update) and some of the analysis tools (like ISIS and IDL/ENVI)
For operations, it's been wonderful to see the fruits of our efforts — we go to a lot of trouble to acquire an image, but once it's acquired, we tend to lose track of it, because we're planning the next images! Seeing the science that comes out of the data not only helps us understand strategies and be more intelligent in our targeting and planning, it's also just really cool!
I think keeping the "big picture" in mind is important in keeping us motivated and excited about what we're doing.